Rescue Story
Would you take on an older Weimaraner?
This is Cassie's Tale (or Tail?)
There's Life in the Old Dog Yet
For many who have had the privilege to experience more than one Weimaraner and in particular those who have worked them this may not seem a remarkable tale.
However for those who are considering taking on their first Wei and in particular if it's a "Pre' owned" model, then read on.
We have owned, bred and worked our Weimaraner's for many years.
Around quite a few years ago a Wei Bitch in need of re-homing came to stay with us; there were a couple of small snags.
(1) She was in pup so needed somewhere to whelp; (The main reason for being with us)
(2) She arrived painfully thin and quite naturally nervous, she was also very aggressive.
Here she was in a strange place with a strange pack around her (we had 4 of our own at the time). Her response though predictable was a shock in her ferocity. She attacked all of our dogs, plus left holes in me and a couple of visitors.
She was starving and stealing food at every opportunity even though we were literally shovelling food into her. Two days after she arrived we made a visit to our Vet he predicted that her pups were due within 1 week !!
Just 5 days later 4 healthy pup's arrived and life began to calm down a little, not much but it did calm down.
The main issue now was she could not be left, I do mean could not be left! not for a second.
Panic would set in and she would try desperately to pick up all her puppies (None too gently) at the same time (4 is a mouthful) and follow us.
For the next 4 weeks either Carol or I were in the garage (yes the whelping box was in the garage) with Cass and her pups, Carol slept on a camp bed (Lucky it was a warm summer) and I moved my office in there during the day (Cordless phones and Wireless networks are a godsend).Eventually she moved into the house with her pups even allowing our other girls access.
All 4 pups were found excellent homes by the Weimaraner Club; now all that was left was Cass.
Unfortunately due to a desperate lack of socialization in her early years she had developed some very anti-social habits. She would chase and grab anything fast-moving, so was a nightmare around livestock, or cyclists, oh and joggers were just far to easy to catch she "tree'd" a couple of them.
Children we discovered were a massive problem just the sound of children at play her pupils would dilate and she became very agitated and stressed. Scarily Cassies reaction when under stress was to bite, so children we had to take particular care around. The options for Cass were looking slim.
We made the decision that we would work with Cass to try and bring her to a point where she could be re-homed.
With a lot of input and socialization and with our own dogs there as moral support her behaviour and demeanour changed (I had to take her to the pub for occasional socialization, so tough!! But of course I only did it for her own good) as the Autumn approached and the shooting season began Cassie coped well with losing pack members for a day and not being aggressive when they returned. She did show a great interest in the scent they carried though. We carried out hours of livestock training around sheep, cattle and our local deer park.
That first December Cass was with us I was due on a shoot (our local syndicate) and my steady companions Topaz and Crystal were both lame. Rather than go dog-less I took Cass expecting nothing from her, and knowing I may have my hands full keeping her in check.
At 4 ½ years old and with only rudimentary whistle training (a recall and sit) Cassie (and I) found her reason for being.
She performed like a dog with many seasons spent under the gun, hunting steadily, pointing in a classic style (pretty amazing for a dog who had spent her early life in a Pub yard).
The first day I refrained from letting her retrieve (refrained !! what I mean is I was thinking about Cass's desperate need for food I had a vision of her becoming HPE "Hunt Point Eat", not HPR).
After that first day Cass became a regular on several local shoots up to the season's end. She still was almost to her last day.
If I tried to leave without her on a shooting day the noise and crying I left behind was terrible, so loud the whole neighbourhood knew, remember she was not alone there were 3 other Wei's and Carol and our sons in the house. No more lay in's for the boys on a Shoot day.
.So Cass came every shoot day and the other girls rotated.
What to do? Cassie was now steady and social with people and other dogs and excellent around livestock. Should we let her be re-homed?
We looked at each other and without a word being said the decision was made Cass was staying put.
Cass's second season would be her first full one; we began with Grouse in August on the Woodhead Pass (a Wei working open moorland is special to see) Cass and Crystal became a fantastic team. Back in Sussex for Partridge in September and then the Pheasant in October in all 49 shooting days and Cass worked every single one.
Cass's retrieves were never text book (far from it), more to foot than hand as she throws the bird on the floor and gives me the "come on then what's next?" look or the "you missed didn't you" pitying gaze.
She swam and retrieved from water as well as any Labrador and never stopped amazing me with her willingness to work in and under all conditions.
So for any one offered the opportunity to take on an older Wei.
Whether or not in their middle or later years you dismiss them at your peril.
Be aware they are a breed apart, can they learn new things. At any age? You Bet.
Will they stay the distance? You bet.
Will they keep up? Well I hope you are fit, it just might be you doing the keeping up?
Just for the record, Cass's last full season (2009/2010) was 41 days worked and at 10 years old Cass didn't miss one.
She had lumps and bumps all over so the 2010/2011 Cass was only able to work odd days. I still fully expected Cass to be working along-side our other girls again in the 2012 season though just for the odd day. Sadly it was not to be.
We took Cass to our Vet to have her lumps investigated only to receive the news that they were Mast Cell tumours, some attached to internal organs and were inoperable.
To the very end she remained a special dog, we lost Cass in July 2011 and I am still in tears writing this and thinking about her.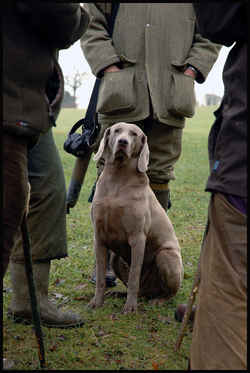 Cass as I will always want to remember her, doing what she loved
Cass was an amazing experience, not for the faint hearted and not for a beginner; are we glad we took her on, absolutley. Would we do it again? Well we already have, the "Black Sheep".she has some issues none of them anywhere near as dire as Cassie's but if another Cass came along I don't think either of us would hesitate for one second (Oh no what am I saying 5 again???)
It took us a year for Cass to be totally steady around livestock, she still watched cyclists and joggers go by, with a glint still in her eye and lick of the lips (we had to watch her right to the end).
The most fantastic transition had been with children, she tolerated them really well. Though we did ensure she was managed and we always remembered it was our responsibility to protect her.
When we would sit in a pub garden with 5 Wei's (I know it's a chore but as I said it's for their own good and someone has to do it) there are always children who want to stroke the dogs. Cass for some reason seemed to be the child magnet, bless her, the "why me" expression on her face had to be seen to be believed.
Our dogs have all lived long active lives and Cass turned out to be one of the longest working yet.
Is/was Cass an exception? I would say no, she is more typical of the breed.
Our dogs are very special to us; we have bred our own for several generations. What made Cass unique she was the first "outsider" to be integrated into our pack and she was a joy and a revelation it was an honour to have her in our lives.
So don't ever dismiss an older Wei they can/will be a challenge, however their ability, intelligence and aptitude allows them to learn at any stage of their life.
Weimaraner's are with out doubt a very special Breed. Having Cassie in our lives was an honour and a privilage.
But then as I have said many times before, I just may be more than a little biased